Almost every search for a business on Google serves up an information box on the right side of the results page. It shows the company name, phone number, hours, a link to their website, as well as pictures and reviews.
You love how convenient it is to get directions or check company ratings and all your competitors have detailed, attractive information boxes when you search them online.
But when you search for your own company on Google, no dice. It's either no information box or one that's subpar at best, which you didn't create.
How can you add your site to Google and get your own snazzy business listing?
It's super simple— once you understand how to get started.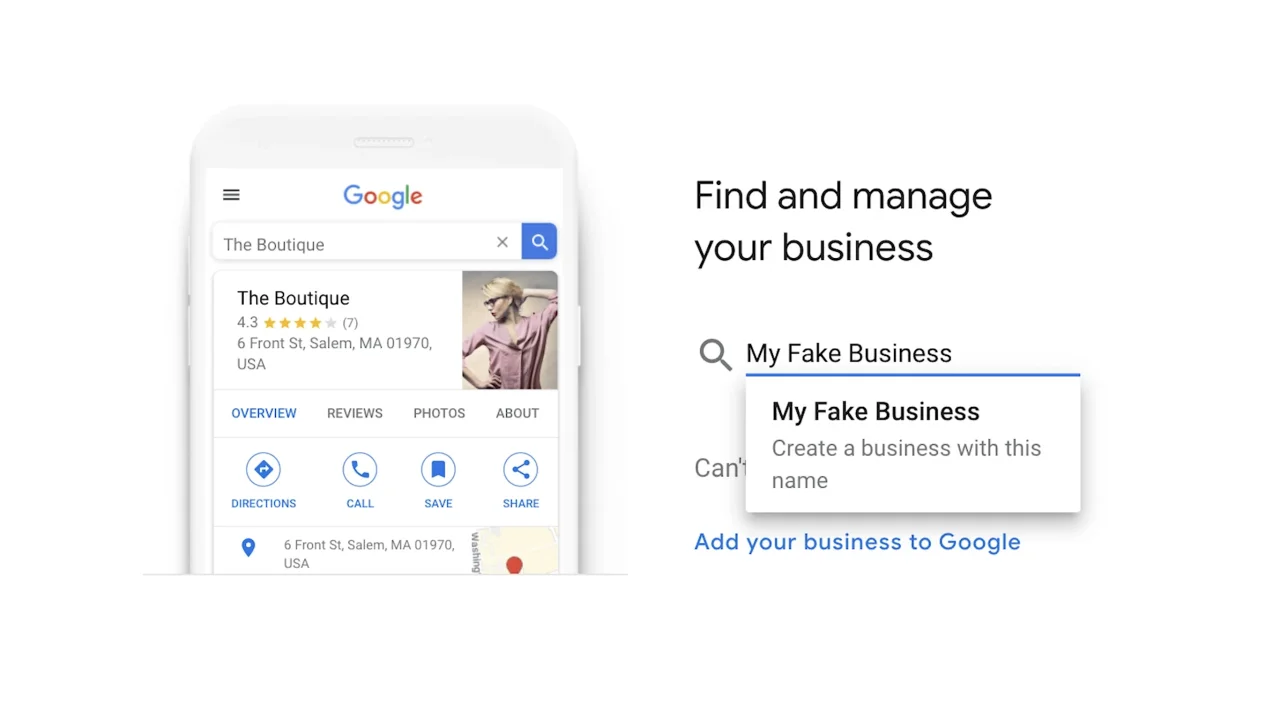 Google Knowledge Graph for Beginners
That helpful information box is what Google calls a "Knowledge Graph." It's a block that's generated from company details listed on Google's business platform, Google My Business.
This is the online portal many businesses bow to as the Queen Bee of local search.
Google My Business gives you tools to showcase your company's information, engage with customers and gain helpful insights on how users are interacting with your Knowledge Graph.
The great part about it is— it's all free.
All you need to do is sign up for an account to start telling the world's largest search engine about your business. After you've logged into the platform, it's easy to add your site to Google by building your online profile.
How to Create a Business Listing
Head over to www.google.com/business/ and create an account. Make sure you do the following:
Click on "Get on Google." Choose your Google business account email and sign in.


Search for your business.

It'll ask you to locate your business by name and address. If you can't find it, simply click the option that says you don't see a match and add your business.

*If when you do see an existing listing, reference our "How to Claim a Business Listing" section below.


Enter your location and business type. You'll be given a few options to categorize your industry. It's good practice to add at least three best matches related to your niche.


Verify your business. Tell Google you are authorized to manage this business and click "Continue." It'll ask to verify your company address by snail-mailing a code. This takes a few days to arrive, but only a minute of your time to confirm later.


Take a tour. Before using the dashboard, Google will ask you if you want to tour the platform. We recommend going along for the ride to ensure you learn the ins and outs.


Set up your profile.

This part isn't hard to do. Just add your hours, phone number, pictures, and more. Basically, include as much as possible to optimize your profile!
Golly gee. That was easy.
But wait. Maybe you're thinking, "I know how to get my business on Google, but that's not my problem. I already see a listing, however, I didn't make it and can't log in to update it."
No biggie. Just request access from the person who created it by "claiming" the listing.
How to Claim a Business Listing
If you see your business appear once you type in your address (Step 2 above), click on it. It'll say that someone else created this listing— but if you're the rightful owner, you can claim it.
Sometimes friendly faces will help Google by populating business information, and you'll just need to say "Hey, this is mine!" and it's yours. Other times, it might have been something your company made once upon a time and left neglected.
If someone on your team previously created an account, Google makes it easy to contact the listing owner via email and get them to grant you access to the account. The search engine's procedure involves sending the account holder an auto-generated email from Google asking to make you an admin or pass over the ownership rights.
It starts to get a little hairier if an unfamiliar email owns the listing and isn't responding to your requests. Google gives the mystery maker 7 days to reply, but if they don't, rest assured! There's a procedure to override their ownership and gain access from inactive users.
Google Knowledge Graph Best Practices
If you're looking to use your Google Knowledge Graph to its full potential, try the following:
Facilitate Google reviews.

This topic is delicate because Google is smart enough to tell if your reviews are legit. Don't ask a friend to write a phony review. Search engines want people to naturally

rate you and will weed out spammers. If bots miss the fake enthusiasm, searchers sure won't. You're not fooling anyone.

BIG IDEA: Offer customers a small incentive. Consider posting a "Tell us what you think by leaving us a Google review" sign in your shop or creating the same messaging on your website. Instruct them to search your business, click "Write a review" at the bottom of your Knowledge Graph and leave some genuine feedback for a special discount.
Stay active on your social networks. Google's Knowledge Graph includes your official website and often your YouTube channel, Facebook other active profiles.

BIG IDEA:

Create a posting strategy so you can leverage your content across all your social platforms while it's hot and relevant. Remember, the graph only includes your social links if you're engaged and pushing out fresh content, so get posting.
Use your keywords appropriately.

Update your business description to include your target keywords. Don't overstuff and make sure you're

implementing your keywords in a healthy way across your website

.

BIG IDEA:

Plan a brainstorming session with your team to discuss phrases you think people are searching around your niche. Afterward, do some research using tools like SEMrush or Ahrefs to see how people are actually finding you and discover ways you can improve topics where you're falling short.
Give Your Graph Time to Show on the SERPs
Changes on Google aren't crawled overnight.
Although you'll see your edits on your dashboard instantly, it may take a few days for your Knowledge Graph to start showing up on the SERPs after entering your Google My Business information.
Edits are reviewed for quality before publishing, and while some edits happen on the spot, others may be in a "pending review" status for a bit.
You can check on your status by logging into the platform and looking on the right side of your dashboard. Remember to keep your information up-to-date by logging in every week or so.
Is your business still not showing up when you Google your business? Try optimizing your Knowledge Graph with these tips.
Optimize Your Website for Search Too!
Now that you've gotten "fairly local" with Google's business platform, keep the momentum rollin'.
You may have heard about search engine optimization (SEO), but not be totally sure how it all works.